Why is Writing Important?
Writing has the power to change your life! Writing is an important part of our daily lives. Writing provides away for you to express your thoughts feelings and ideas through the use of written words. Writing is a way to create the world the way you would like it to be. Effective writing is an essential skill that is important in every subject in school. The early years of a child's life are the most important time for writing and reading. Writing takes time, practice, and courage to be effective.
There are several things that make writing so important. Writing is a way for a child to express their thoughts. Writing is a way for a child to communicate effectively to others. Writing is a way for a child to organize his or her ideas and keep them for later use. Your writing expresses who you are.
Writing is especially important in elementary school. The writing students do in elementary school can benefit them for the rest of their life. Writing can foster confidence in children and a life-long love of writing. Writing skills are important for elementary students' continued learning in all academic areas, communication and self-expression, according to the Institute of Education Sciences.
The Following Are Some of the Benefits of Creative Writing:
Creative writing develops reading, writing, and language skills. It helps a child's academic development.
Creative writing allows a child to use his/her imagination and practice how to think 'outside of the box.'
Creative writing develops a child's self-confidence.
Creative writing helps a child to develop emotionally. It provides the child with an emotional outlet to express him or herself.
Creative writing improves penmanship.
Creative writing is a positive form of entertainment.
Creative writing supports development of critical thinking and problem-solving skills.
Creative writing helps to develop students' vocabulary and reading ability.
Creative writing develops a child's communication skills.
Creative writing foster creative expression.
Creative writing clarifies a child's thinking. It develops a child's cognitive or learning skills, the child's ability to process information, reason, remember, and relate.
Creative writing develops a child's reading and writing skills. Even the earliest attempts at writing helps children develop reading skills. Writing and reading are related and depend on each other.
Creative writing assists students in other academic areas.
Creative writing plays an important role in a child's literacy development.
Write More to Become a Better Writer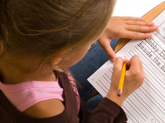 Writing well takes a lot of practice. To become a great writer, you have to write. The more a child writes, the better writer he or she will become because reading and writing support each other.
"You learn to write better by reading. You learn to read better by writing. Reading and writing work together to improve your ability to think!" - Unknown
When a student writes about a particular topic, it improves the child's understanding in that topic. It makes them smarter.