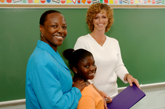 On this page, you will find a list of resources for parents. These resources are designed to equip you with valuable information that will assist you in helping your child succeed in school. Click on the link to find the information you desire.
PARENTAL INFORMATION
At I CAN, we understand that the well-being of your child is top priority. Find out what parents ask most about our tutoring program.
LEARN MORE
HOMEWORK TIPS
Is homework time a time filled with stress for you and your child? Then read the homework tips we have provided to make homework time a time for peaceful learning.
LEARN MORE
SIGNS YOUR CHILD NEEDS A TUTOR
There are several possible signs that your child need a tutor. Read the list to find out and get your child the help he or she may need.
LEARN MORE
TYPES OF QUESTIONS TO ASK WHEN READING WITH YOUR CHILD
When you read to your child, it is very important to ask the right questions. Asking questions before, during, and after reading helps build your child's comprehension skills. So use this list of questions to help your child's reading skills.
LEARN MORE
STRATEGIES FOR IMPROVING READING COMPREHENSION
"Reading comprehension is the ability to read text, process it, and understand its meaning." Reading comprehension is important because comprehension is the reason for reading. Reading comprehension will help your child in all school subjects. Use this list of comprehension strategies to help your child understand what he or she reads.
LEARN MORE
I CAN BLOG
I CAN Blog is where parents can find ideas and tips on a variety timely educational and parenting topics.
LEARN MORE