DEVELOPING EXCEPTIONAL READERS AND WRITERS ONE STUDENT AT A TIME!
With online tutoring, students not only receive one-on-one tutoring, but also face to face tutoring. Many parents think that online tutoring will not be engaging with their child, but live one-on-one online academic tutoring is very engaging. With the one-on-one setting, the child will also be more focused, gain a lot of knowledge, and make enormous progress in his or her learning. Focused one-on-one tutoring helps students achieve success in reading more rapidly.Online tutoring is a very affordable choice because the tutor does not have to pay for the cost of traveling or overhead.Because of this, the tutor is able to charge less.
A few of the advantages of our online tutoring program are:
Your child can attend tutoring sessions at a time most convenient for you from the comfort of your own home.
It allows the tutor and the student to upload files.
The tutor can share the screen with the student.
The tutor can record the tutoring sessions for later viewing in order to track student's progress.
The tutor and the student can write on a virtual whiteboard.
The student can participate in audio, video, and text chat during the session.
The Required Technology for online tutoring is:
Computer
An Internet Connection
Good lighting
Quiet area to work
We provide tutoring online to accommodate busy families. Students can receive the help they need from a tutor right from the convenience of their own home at a scheduled time. Parents have the freedom to schedule their child's tutoring sessions when it best fits their schedule. You simply need a computer with an internet connection.
What are the Benefits of Online Tutoring?
Availability
Geography isn't a limitation for online tutors, and neither is time. Once you remove the restrictions of geography, time zones, and commuting, online is an excellent choice. With online tutoring, the student has the ability to attend a tutoring session from any location with an internet connection.Online tutoring is advantageous for students as they can learn anytime and anywhere they want.
Technology
The technologies available today allow online tutoring to resemble and get the same results as in-person tutoring. Often people who haven't experienced online tutoring fear the technology will be a hindrance, but in many ways it is an advantage, especially for young people who are used to technology and are not intimidated by new software. Tutors can make use of the many advantages of using technology during online tutoring. They can use photos, animations, learning games, drawings, diagrams and much more.
There are resources that are readily available that wouldn't be if you were sitting across a table from a student.This platform provides the tools necessary for a productive learning environment. Online tutoring will also help the student become more comfortable with technology. Having technical skills is very important for students in the digital age. They are skills that students will likely need in their future.
Online tutoring can actually help students develop technical skills that they would more likely not have developed in a face-to-face setting.
Live Interaction
Online tutoring offers the value of face-to-face education through live interaction between students and tutors. One-on-one online tutoring allows for a dialogue between the student and the tutor. Tutoring online captures the student's attention, and the student is engaged in the learning process. This helps the student to be more involved and to retain more of the information. Online tutoring can make some students who are introverted feel empowered to ask questions, offer their opinion, and to contribute.
Study from the Comfort of Familiar Surroundings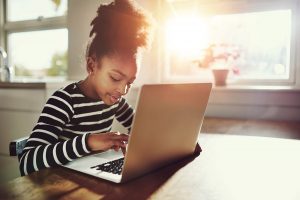 Online tutoring allows tutors and students to interact from the comfort of their own homes. Online tutoring enables the same level of engagement as face-to-face tutoring within an environment that is familiar to the student.
Access to Resources
Online learning has revolutionized the way people can access education. Learning online enables students to engage more easily with multimedia resources and the wealth of material that is available online.
Convenience
The convenience of being able to meet with a tutor without having to leave your house is a great benefit of online tutoring. Students are not required to be at a specific place to receive tutoring. They can participate in online tutoring from home, the library, and anywhere they can access the internet.The many advantages of online learning make online tutoring a pleasant experience for everyone involved.
Flexibility
Online tutoring is also very flexible. It allows parents to access and get tutoring help for their child when it is convenient for them. With online tutoring, you don't have to be present at a specific time.
Online tutoring can provide an equal, or even higher quality educational opportunity in many situations. These along with other benefits make online tutoring a great option for parents.
How Does Online Tutoring Work?
1. Student Assessment
2. Develop a Personalized Plan
3. Individualized Instruction
4. Monitor and Report Progress
TO GET STARTED, CALL US TODAY AT 404-368-7060
Click Here to Register Online!
Registration and Assessment Fee
$50.00
Service Fee
$50.00 per 1-hour session (per person)
Billed Monthly – Payment is due before tutoring session begins. Total amount for the month is due at the beginning of each month.
MAKE A FUTURE PAYMENT
FOR REGISTERED STUDENTS ONLY
(APPLICATION RECEIVED)
REGISTER TODAY TO RESERVE A PLACE FOR YOUR CHILD TO LEARN AND GROW!
SPACE IS LIMITED!